How Do You Install Spy Phone - Phone Tracker on Android 2.3x and Android 4.0 Phones
Once you click on our Free Download buttons you will be sent to our Google Play Android page where you just click on the link to install the software. It usually takes about 30 seconds to download. Spyphone installs on your Android phone just like any other Android marketplace app with the only difference being you will put in a username and password into the software when you are installing.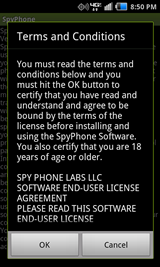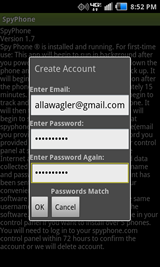 go to apps>settings>Application Manager>on a phone running Android 4.0 and apps>settings>Running Services on a phone running Android 2.3x. or earlier
Scroll down to Phone Tracker icon under running apps and make sure it has started to run. A screen will show up with a Title of Active App. This screen shows you that the software is running properly on the phone. On some phones it make take up to 20 minutes for the software to begin recording information. If it is not running at that time restart your phone. Again On some HTC phones you will need to do a restart rather than a power off and then power up. You can also just take out battery and put it back in and then power phone back up as that works on all phones.

After this point data will begin to be transmitted off the phone to your account at spyphone.com. You would then tab out of this screen. You can log into that account anytime by using using email as the username and password that you used to make account.


To Uninstall Spy Phone - Phone Tracker from your Phone.

To uninstall Spy Phone - Phone Tracker from a phone running Android 4.0 you would go to Settings>Application Manager>Downloaded Apps on a phone running Android 2.3x or earlier it is Settings>Applications>Manage Applications

Click on the SpyPhone Icon and yo will be brought to this screen.
Click on Force Stop
Then click uninstall.


When phone prompts you to hit OK to uninstall software do so and the software has been unistalled. You will then see one more screen telling you software has been removed and hit OK.

Shut off phone at that point and then restart. You can check to see if it is unistalled by going to Settings>Application Manager>Downloaded Apps on the Samsung Galaxy SIII running Android 4.0 or Settings>Applications>Manage Applications on the Motorola Droid Razr running Android 2.3x to make sure it is not there.

If you sell, discard or otherwise transfer phone in any way you installed software on you must uninstall the software and delete the downloaded spyphone app off the phone.

Which Phones can I use Spy Phone - Phone Tracker with.

At this time we have only released an Android version of spy phone. It works with Android 2.3X and Android 4.0X which comprise about 92% of Android Phones currently in use. This includes all the models from the major smartphone manufacturers such as Samsung, HTC, Motorola, LG, Pantech and Sony.

We are in the process of writing an IPhone version of spy phone which will be available in Fall 2013.

Which Carriers can I use Spy Phone - Phone Tracker with.

At this time it works with all the major carriers such as Verizon, ATT, Sprint and T-Mobile and we have thoroughly tested the software on Android Phones on each of those carriers. There is no reason why the Spy Phone Software would not work with any of the smaller carriers as long as you have Internet access on the Android smartphone so the software can send the data to our our central servers where you can access the data through your control panel.