The Great Debate: Should You Ban Your Kids From Social Media Till They are Older
Spy Phone at Dec 13 2020 9:28PM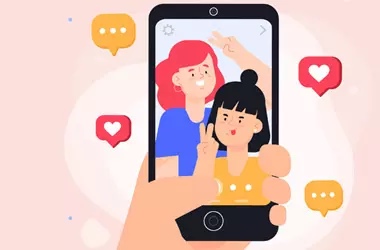 The Great Debate: Should You Ban Your Kids From Social Media Till They're Older?

Every age had something which one generation feared that would corrupt the next. Has the belief ever proved true? Each parent should find time to think about the things that were considered taboo during their childhood by adults.
Our Age of Technology
We live in an age of information that is available to everybody due to advances in technology. Technology has become an inseparable aspect of learning and schooling. There is no stopping a child from getting access to social media. This is a fact that cannot be denied. What we can do as responsible adults and parents is to find sensible methods to ensure that our children use social media for creative purposes.
The "For Argument"
All civilized nations have norms for the following:
i. Use of tobacco.
ii. Use of alcohol.
iii. Age for getting married.
All the above limitations are based on age, so why not an age limit for social media?
Social media use cannot be compared to tobacco or liquor use. It is like certain clothing or food that is an individual choice. It is part of life like real-life peer groups that cannot be denied.
The "Against Argument"
We know from our own experience that we were always able to stay one step ahead of our parents and teachers. Do you think that a new age child is dumb? Children think that we are dumb because we never heard of a particular alien attack game!
The Positives of Social Media
Now that we are ready to come out of denial mode, let us do some proactive thinking. Other than the cliché pros of social media like bonding etc., it has many advantages.
i. A class group on a social media platform where the teachers and students interact regarding lessons, homework, and questions is very popular. In many nations, parents also participate in such groups.
ii. Many use social media for effective collaboration to complete projects and assignments.
iii. Topic-specific groups provide lectures and essays by known experts that were not accessible in a previous age.
iv. Important announcements from school authorities or changes in events are conveyed with the click of a key to all concerned parties in a second.
No doubt, it is very easy to abuse this freedom. We should discuss and find ways to counter that.
Installing a Spy Software for the Safety of Family Members
A good phone spy software has the following features to ensure the safety of your children:
i. The GPS locator keeps you informed of his or her real-time location at all times.
ii. You know about their browsing history time.
iii. You will be able to keep track of all contacts on your child's phone.
iv. You can discover the identity of contacts.
The spy phone app also comes with a panic button for use by the child during emergencies.
Instead of denying a child access to social media, cleverly allowing the same will make him or her more responsible. What is the need to ban social media when responsible parents can monitor their kids' activities?