SpyFone Apple FAQ
What is the cost to download and use the SpyFone software on my smartphone?
This is a free download that can be used to monitor activity on as many as five different phones from the same account. Please review our pages here at SpyFone.com for more information about installing and using Phone Tracker, as well as other important information about this software.
IMPORTANT INFORMATION ABOUT THIS APP: PHONE TRACKER IS NOT INTENDED TO BE USED, AND MAY NOT BE USED, TO SECRETLY OR SURREPTITIOUSLY OBTAIN DATA FROM A MOBILE PHONE WITHOUT THE USER'S CONSENT. DOWNLOADING PHONE TRACKER ON ANY PHONE WITHOUT THE KNOWLEDGE AND CONSENT OF THE OWNER IS STRICTLY PROHIBITED AND MAY BE A VIOLATION OF FEDERAL AND/OR STATE PRIVACY LAWS. TO DETER UNLAWFUL AND/OR UNAUTHORIZED USE OR MISUSE OF PHONE TRACKER, AN ICON WILL APPEAR ON THE PHONE TO INDICATE THAT THE APP HAS BEEN DOWNLOADED AND A NOTIFICATION WILL APPEAR ON THE PHONE AT REGULAR INTERVALS NOTIFYING THE USER OF THE MOBILE PHONE THAT DATA RELATING TO THE USER'S LOCATION AND/OR ACTIVITIES ARE BEING REMOTELY MONITORED, RECORDED AND ARCHIVED.
SPY PHONE LABS LLC IS NOT RESPONSIBLE FOR ANY UNAUTHORIZED USE OR MISUSE OF Phone Tracker. IF YOU BELIEVE THAT DATA HAS BEEN OBTAINED FROM YOUR PHONE WITHOUT PERMISSION THROUGH THE USE OF Phone Tracker, PLEASE CONTACT YOUR LOCAL LAW ENFORCEMENT OFFICIALS PROMPTLY.
To deter unlawful and/or unauthorized use of the Phone Tracker software and/or the secret or surreptitious gathering of data without the user's permission, an icon will appear on any smartphone on which Phone Tracker has been downloaded, and notifications are sent to the smartphone approximately every 12 hours to notify the user that Phone Tracker is running on the phone, and that certain data from the phone is being monitored and collected remotely.
Are you a U.S. Based Company?
Yes. Spy Phone Labs LLC is a U.S. Based company with offices in New York. Spy Phone Labs LLC is the World Leader in Phone Tracker Software for Android Phones. SpyPhone is a registered U.S. Trademark of Spy Phone Labs LLC
HOW IT WORKS: After installing Phone Tracker software on the phone, which takes approximately 30 seconds, parents can monitor the following data from their child's Android smartphone: (1) GPS location data on a plotted map (updated every 30 minutes); (2) Contacts on a Phone; (3) Apps Installed on a Phone. All of this data is available 24 hours a day, 7 days a week, from an account that can be established on our secure website at SpyPhone.com.
What information does Phone Tracker record off the smartphone that it is installed on?
Phone Tracker will record the following activities on the smartphone it is installed on.
GPS Cell Phone Location Log - Approximately every 30 minutes the location of the smartphone will be logged using the GPS coordinates of the smartphone location.
Contacts on the Phone
Installed apps on the Phone
What smartphones does Phone Tracker Software support?
The app is compatible with Android 2.3 to Android 9 phones. We are in the process of writing an IPhone version of Phone Tracker which will be available.
How Do You Install Phone Tracker on Android Phones?
Once you click our free download buttons you will be sent to our Google Play Android page where you would click on the link to install the software. It usually takes about 30 seconds to download. Phonetracker installs on your Android phone just like any other Android marketplace app with the only difference being you will enter a username and password when you are installing and the software will begin to run in the background.
Make sure that GPS locations data is enabled on the phone. Make sure you checked off GPS services to enable GPS tracking on the phone. Whether or not you have GPS location data enabled on the phone only affects the GPS Location tracking of phonetracker.
After about 1-5 minutes, a notification should appear in notification tray at the top of the phone, indicating the Phone Tracker is running.
Log into your control panel at www.Phonetracker.com to validate the installation. On some phones it make take up to 20 minutes for the software to begin recording information. If no information has been received by then, try restarting your phone.
After this point data will begin to be transmitted off the phone to your account at Phonetracker.com. You can use the web browser to log into your account anytime by entering the username and password used when installing the app.
At this point you can see if the data is being transmitted properly to Phonetracker.com control panel for you to view. The phone only transmits data to to the control panel if data is enabled on the phone and there is an internet connection so the software can send out the data. You will need to login within 7 days after downloading the software or the account will be deleted. Since this is a free service we do not want to maintain accounts that are not being used.
To Uninstall Phone Tracker from your Phone.
To uninstall Phone Tracker, go to Settings > Applications.
Scroll down to click on the phonetracker Icon and you will be brought to this screen.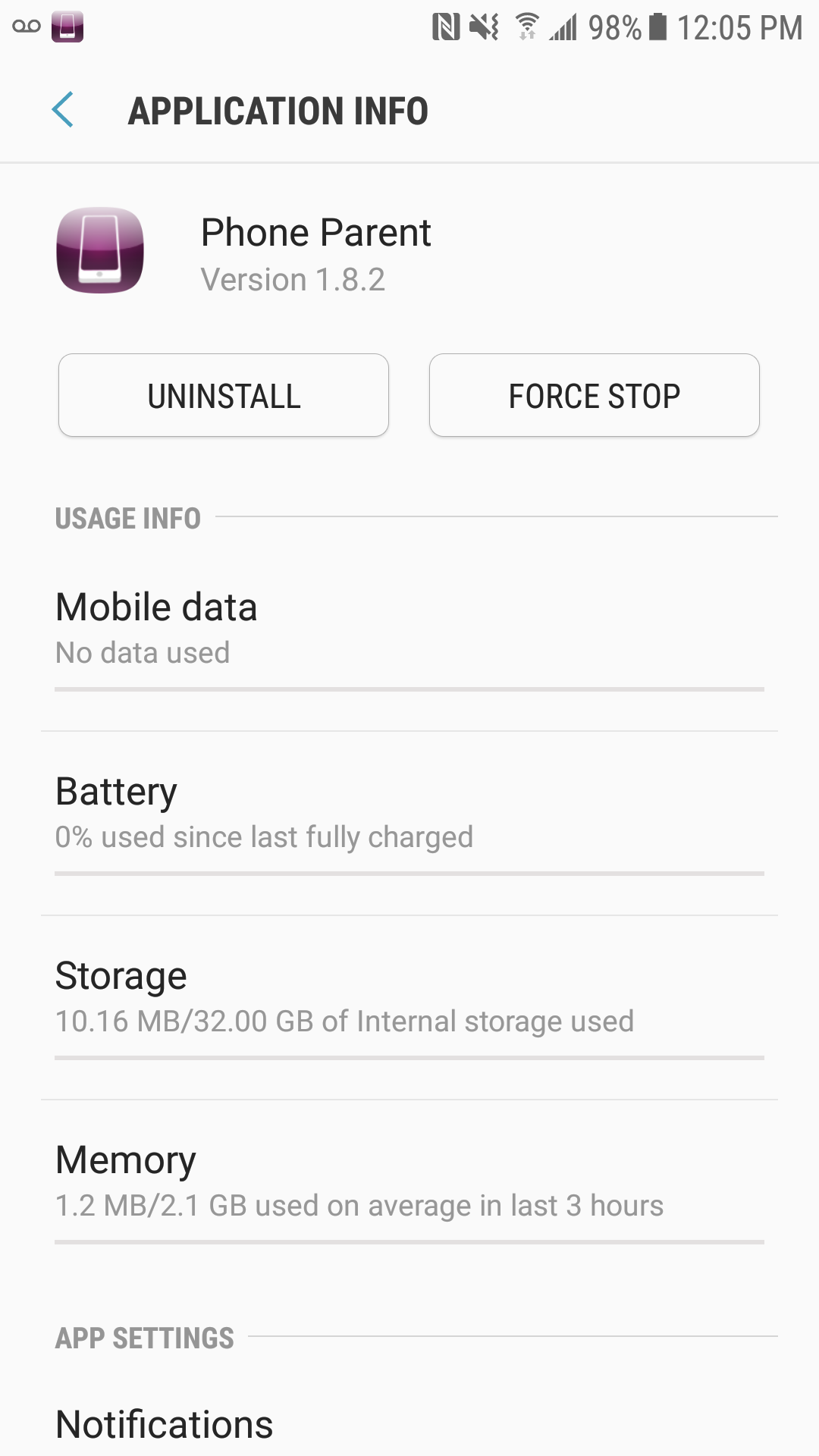 Click on Force Stop
Then click uninstall.
When phone prompts you to hit OK to uninstall software. You will then see one more screen telling you software has been removed.
If you sell, discard or otherwise transfer phone in any way you installed software on you must uninstall the software and delete the downloaded Phone Tracker off the phone.
Do you provide SpyFone phone support?
We do not provide phone technical support on the software at this time. You can email us at support@spyphone.com or open a support ticket with us in the control panel providing your user name you made account with so we can access your account.
SpyFone in my Country?
The user agrees that it is the responsibility of the user of SpyFone to research and follow the applicable law in their country in regard to the use of this software. By downloading and installing SpyFone, you represent that SpyFone will be used in a lawful manner in accordance with the laws in your jurisdiction. You must also read and agree to our User Agreement before installing SpyFone and using the service. Only install SpyFone on SmartPhones you own; you must inform people using the smartphone that the software is on the smartphone and what it is tracking and keeping records of in accordance with any applicable laws.
Does the software have to be physically installed on the SmartPhone?
Yes you must have physical possession of the smartphone that the software will be installed.