Your smartphone most likely contains a lot of crucial data about your life. This can include a wide range of things, from the photographs and videos you made to your banking details and contact numbers, all the way to your social accounts and email address. Hence, losing it would be quite frustrating.
So, if you're thinking about installing the Spy Phone Tracker to keep your data safe or if you simply wish to know where your kids are at all times, you'll certainly want to learn more about it before using it. Luckily, we've prepared some of the most FAQ, as well as some instructions on how you can gain access to the application, so let's look at what you need to know:
Ten FAQ: Answered
Before we explain to you more about how you could download and utilize the app, as well as some other info about it, there are some frequently asked questions that you might want to know the answer to. This will enable you to understand how to use the app better, but more importantly, it'll probably make it simpler for you to handle it. Hence, some of the most FAQs about the SpyPhone program are:
1. What is The Price to Download And Utilize the Spy Phone Program For my Account?
One of the first things that you should know is that this is a free app, meaning that it could be used for monitoring activity on as many as 5 different receivers from the same account. If you wish, you can examine our page here at SpyPhone.com for more info on installing and utilizing this Tracker program, as well as other relevant info about this particular software.
2. Are There Disclaimers That I Should Know About?
Yes, the most significant info about this program is that the Tracker isn't designed to be utilized, and cannot be used to covertly or secretly obtain info from a receiver without the permission of the owner. Downloading the app on any receiver without the awareness and approval of the user is rigorously prohibited and may be a breach of federal and/or nation privacy regulations.
3. Could Someone Know That I'm Using The Program on Their Receiver?
To prevent illegal and/or unapproved use or misuse of this particular app, an icon will emerge on the smart device in order to show that the app has been downloaded. In fact, a notification will also appear on the top at frequent intervals, with the goal of informing the owner of the receiver that data linking to their location and/or actions are being remotely observed, registered, and, of course, archived.
4. Is Spy Phone Labs LLC Liable if Someone Misuses the Program?
To put it simply, no, Spy Phone Labs LLC isn't liable for any unlawful use or misuse of our monitoring and program. If you think that data has been gathered and collected from your smartphone without your consent through the use of the Tracker we offer, you should immediately reach your local law enforcement representatives since they'll be capable of helping you with the problem you came across.
5. How Often Will The Notification Be Shown in The Top Bar?
As we mentioned, in order to prevent illegal and/or unapproved use of this particular app and/or the secret or hidden gathering of data without the individual's consent, an icon will emerge on the home screen of the device on which the app has been downloaded. The notification will be conveyed roughly every twelve hours – twice a day – meaning that the person will be notified about someone utilizing the online Tracker. This means that they'll know that they're monitored and that info is being collected. Spy Phone is not an app spy.
6. Is Your Company Based in The United States?
Yes, it is. Spy Phone Labs LLC is a company based in the US with facilities in New York City. Our innovative organization is the World Leader in Phone Tracker programs for Android receivers. Additionally, you might want to know that Spy Phone is a certified U.S. Trademark of our company, and because of this, any unauthorized use of our logo and/or software (or any other aspect of our business), could lead to some legal actions.
7. How Does it Work And What Does it Track?
After you download the software on the receiver, which will take roughly 30 seconds, you could observe the following info from the kid's Android gadget: the GPS position data on a planned map (renewed every thirty minutes), the contacts they've memorized on it, and apps that are on it. All of this info will be available 24 hours, seven days a week, from an account that could be opened on our safe website - SpyPhone.com.
8. What Models Does This Software Support And Do You Have Customer Support?
This program is suitable for Android 6 to 11 receivers. You should know, we're also in the process of creating an Apple version of the app, which will be revealed in the future. We don't provide one-on-one technical support for this program at this time, however, you could email us at support@spyphone.com or you can open an assistance ticket with us in the panel by providing the username that you used for making an account.
9. Can it Be Installed And Utilized in Any Nation Worldwide?
The user acknowledges that it's the duty of the user of the program to examine and follow all the relevant laws in the nation they reside in in order to utilize this program. By getting and running Spy Phone, you accept that it'll be managed in a legal manner in accordance with the rules in your domain. You must also learn and consent to our "User Agreement" before connecting and utilizing the application.
You should know, you must only use the program on gadgets you actually own, and if not, you must notify the people using the receiver that the program is installed on it and that it'll be tracking all of the aforementioned things. Additionally, you'll most likely want to reveal that it'll also gather and keep different reports in accordance with any relevant laws and regulations that your country has imposed.
You should know, you must only use the program on gadgets you actually own, and if not, you must notify the people using the receiver that the program is installed on it and that it'll be tracking all of the aforementioned things. Additionally, you'll most likely want to reveal that it'll also gather and keep different reports in accordance with any relevant laws and regulations that your country has imposed.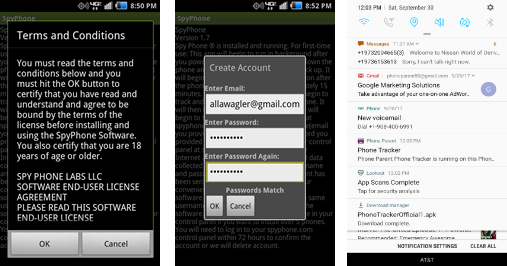 10. Could The Notifications And Icon Be Removed From The Home Screen?
To put it as simple as possible, no, the notification received on a smartphone that you've been observing cannot be removed. They'll appear once every twelve hours, meaning that the owner of the gadget will know that it is running in the background. When talking to the icon, it could be removed from the home screen, however, it'll still be displayed in the settings under "Applications" or in the list of apps on the device you're monitoring. So, you cannot really hide that you've connected it to a particular device.
So, How Can I Download And Use The Software?
Now that you know more about the app, let's look at how you could download and install it. Once you press our "free download" feature, you'll be directed to our Google Play page, where you'll have to press on the link in order to use the program. It'll normally take about thirty seconds for it to download, but this will depend on your Internet speed. It'll be downloaded on the device exactly like any other app, and you'll have to enter your username and password to access it. Then it'll begin operating in the background.
For it to function, you have to ensure that the location data is permitted on the receiver. Hence, you should check and see whether it's enabled. If it isn't on, it'll only modify the GPS tracking features of the app. After approximately one to five minutes, a notification will appear in the tray at the top of the screen, which will show that the application is working. Next, you should log into the control panel at www.Phonetracker.com to confirm the installation.
You should know, on some models, it may take up to twenty minutes for the program to start recording different information. If you cannot view or if you don't receive any info, you might have to restart the device. After doing this, info will begin to be sent from the device to your account at Phonetracker.com. To view the data, you could simply use a web browser to enter your account, and that's it.
Once you access the control panel, you'll notice whether or not the info is being forwarded properly to your account on Phonetracker.com. The device will only transmit it to the panel if it is enabled on the gadget and if there is a stable Internet connection that'll transfer the data. You'll need to log in within 7 days after installing the program, otherwise, the account will be removed. Since this is a free service, we don't wish to manage accounts that aren't being employed.
How Can I Uninstall The App From The Device?
| | |
| --- | --- |
| To uninstall the program, you should go to Settings > Applications. Scroll down the list of apps and once your find what you're searching for, click on it. Firstly, you need to click on "Force Stop", and once it loads, click on "Uninstall". When you do this, it'll prompt you to press "OK" to uninstall it. You'll then see 1 more screen that'll inform you that it has been deleted. You should know, the app must be physically connected in order for you to gain all the features of the app. | |
What Can The App Help me With?
Before we conclude this article, there are a few things worth mentioning, all of which revolve around the benefits you could gain from using our software. For starters, you'll be able to locate your lost or stolen device. Our app works on global positioning systems, meaning that you'll be able to locate the device you connected to your account. Hence, if you've lost/misplaced your device or if it got stolen, you can find it in a matter of seconds. Remember, to do this, the data will need to be turned on.
Besides tracking the location, you could also use it for checking in on your family members. After all, our software allows you to connect 5 devices to the account, hence, you'll use it for, for example, checking whether or not your kids' got home from school safely. This means that, even if your kids forgot to send you a text when they've arrived at a particular location, you can use the app and check on them.
Another great benefit from the app is that you can ensure that people can check on you. For instance, if you allow your spouse to access your account, they could use it for checking in on you. Hence, if you, for instance, ever get in an accident or if you get stuck in traffic for too long, they won't have to call you, instead, they could simply open the control panel and see where you are at the moment.
Lastly, if you opt for utilizing our software, you won't have to worry about your data. What does this mean? Well, it means that if it ever gets stolen or if you've lost it, you could use our program to see where it is, thus, you could take some actions that'll help you protect all the data stored on it. Keep in mind, if you think someone stole your device, it might be best to notify the law enforcement in your local area, instead of your dealing with it by yourself.
Conclusion
Whether you want to ensure that you find your lost or stolen phone or if you simply want to check on your kids from time to time, you could choose to utilize our Phone Tracker. By doing so, you'll know where a particular device is, but more importantly, you can find it if it ever gets misplaced. Spy Phone is a not a spy app and it gives out notifications to user. You must tell users of phone that it is on phone and it cannot be used as an app spy
Now that you know how our app can help you with a wide range of things, you might want to follow or how-to guide above, and download and install the app. It's relatively easy to use and navigate, hence, you shouldn't have any problems with following all the steps we mentioned in our article.